WELCOME
to the DIY Planetarium site. Here you will find everything you need to create your own planetarium from start to finish, for free. This means patterns for building a dome, software for generating custom domes, free fulldome video downloads, instructions for creating your own shows, and more, all laden with photos from actual projects. Please submit questions and or suggestions should you have them, and thanks for stopping by.
---
DIY Planetarium is currently working on its first 3k show since 2009. Space Is Big is complete reworking of our 2010 show, Solar Journey. In Space Is Big, viewers will be flown through our solar system, passing by the sun, the planets, its exciting moons such as Io, Europa, and Ganymede, as well as Kuiper Belt objects. In the spirit of Solar Journey, this show will also be offered for free! Enjoy this 5 minute version, my submission for the 2016 Latino Dome Fest.
---
2016 IPS MEETING
IPS conferences are held on even-numbered years in the venues of state-of-the-art facilities around the world, and are superb events for any planetarian.
Don't miss this year's event in Warsaw (link)

2016 IMERSA Summit
Don't miss the 2016 IMERSA Summit at the Denver Museum of Nature & Science.
2015 IEMRSA Summit
Missed the summit? Check out the hilights here.
August 2015
This year DIY Planetarium partnered with the 4 actors in Fort Collins to present "H.A.T.", a tragic comedy in 3 acts. H.A.T. Read more.
NEW - Blend Tutorials



Start rendering planetarium animations today with tutorials covering everything from the basics to the advanced.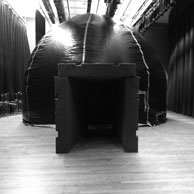 NEW DOMES
Check out the latest dome designs in the photos page.
Gore Calc GUI
Finally, an easy way to generate planetarium gore patterns. Try it out now! Before you build your dome, run your plan by us to make sure there aren't any errors in the pattern. Unless you are trying something really unusual however, the pattern generator should work just fine.

Want to Build A Geodesic Dome?
Check out this excellent guide from Kriger Science.